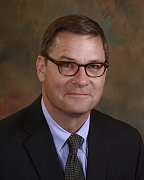 Scott Salsbury 
Hudson, Ohio

Partner


phone

330-655-5760 (Office)
330-931-7587 (Mobile)


fax

330-655-0526


email

Email Me

Scott started Salsbury & Salsbury, LPA with his partner, Sue Ellen Salsbury, in 2007 after being in private practice for 17 years. Both previously were partners at a large full service law firm based in Akron, Ohio.  Scott's principal goals for the firm have always been, first, to continue to provide "big firm" service but at a small firm price;  and second, to consistently provide practical advice achieving effective results.
Scott represents management in labor and employment law, healthcare law, and litigation. His labor practice includes collective bargaining negotiations, the defense of unfair labor practice charges, and grievance arbitrations. He represents and defends employers in hearings before the National Labor Relations Board.

Scott's employment practice involves representing employers before the U.S. Equal Employment Commission, the U.S. Department of Labor and the Ohio Civil Rights Commission. He advises clients on a host of  employment issues ranging from Wage and Hour, Pregnancy and Disability Discrimination, Medical Leave to Whistleblower Retaliation.

Scott's professional experience representing healthcare clients has involved a wide range of issues that include medical staff credentialing, peer review, resident discipline and HIPAA privacy regulations.

Scott has litigated in state and federal trial and appellate courts throughout Ohio. He has tried to jury verdict cases involving areas of law ranging from defamation, tortuous interference with business relations, commercial paper, discrimination to retaliation. Scott has also tried bench trials and injunction actions involving issues that have included construction disputes, commercial real estate covenants, workers compensation retaliation, and non-compete agreements.
Ohio, 1987
U.S. District Court Northern District of Ohio, 1991
U.S. District Court Southern District of Ohio, 1996
U.S. Court of Appeals 6th Circuit, 1999
U.S. Supreme Court, 2001
The Ohio State University College of Law, 1987
J.D.
Law Journal: Ohio State Journal on Dispute Resolution



Kent State University, 1984
B.A.
Honors: Cum Laude



Clarity or Calamity? the NLRB Tries Again to Define Supervisors,
Cleveland Bar Association Monthly Magazine, March, 2007

Employee Use of Social Networking Sites,
The Academy Advocate, Issue 2, Volume 4, 2009

What's the Prognosis for Change in Healthcare Labor Law?
Cleveland Metro Bar Association Monthly Magazine, March 2010

The NLRB Brings Change to Healthcare Employers
Cleveland Metro Bar Association Monthly Magazine, March 2012


Sokol v. Akron General Med. Center, 173 F.3d 1026 (6th Cir. 1999)
Dietelbach v. Ohio Edison, 1 Fed. Appx. 435 (6th Cir 2001)
Moore, M.D. v. Rubin, M.D., 2004 WL 2803237 (Ohio Court of Appeals 2004)
Vrable III, Inc. and SEIU District 1199, 353 NLRB 102 (2009)
Akron General Medical Center (2011), NLRB Case No. 08-UC-000412
Snyder v. Embassy Healthcare, Inc. (2011), Lake Co. Court of Common Pleas Case No. 10 CV 002014
Broadway Care Center and SEIU District 1199 (2012), Contract Arb. FMCS Case No. 11-56893-6
Solis, U.S. Dep't of Labor v. Altercare, Inc. (N.D. Ohio 2013), U.S. District Court Case No. 1:12-CV-1143
AVRC and USW (2014), Discharge Arb. FMCS No. 14-00697-6
Carter v. Hickory Healthcare, Inc. (N.D. Ohio 2014), 2015 U.S. Dist. LEXIS 157947
State, ex rel. Morley v. The Honorable Gene Zmuda, Ohio Supreme Court Case No. 2016-1161
Channels, et al. v. Embassy Healthcare, Inc. U.S. Dist. Ct. N.D., Ohio Case No. 1:16-CV-01806-DCN (class action, 2016)
Akron General Medical Center
Altercare
Community Health Center
Continuing Healthcare Solutions, Inc.
Embassy Healthcare
Foundations Health Solutions, Inc.
Provider Services, Inc.
TCMS Management, Inc.
Borders Group
Franklin Templeton Investments
Modular Assembly Innovations
Ohio National Financial Services
Retail Brand Alliance
SSP Fittings, Inc.
Vertex Computer Systems, Inc.
Visteon
Classes/Seminars Taught:

The Labor & Employment Law Session, Ohio Health Care Association Annual Conference 2005-2007


Remaining Union Free & the Employee Free Choice Act, Ohio Health Care Association Annual Conference, 2008


Planning to Manage a Union Facility? Ohio Academy of Nursing Homes Fall Conference, 2009


Remaining Union Free, American Health Care Association/NCAL 62nd Annual Convention 2010


Pregnancy Discrimination: How to Reduce Your Risks, Ohio Provider Resource Association Fall Conference, 2011


Prevent Emerging EEO Issues From Blooming into Thorny Lawsuits, Ohio Health Care Association Annual Convention, 2012


Staying Union Free, Ohio Health Care Association Annual Conference, 2013


Employee Labor Relations, Ohio Provider Resource Association Fall Conference, 2013


Healthcare Wage & Hour Compliance, Ohio Provider Resource Association Spring Conference, 2014


Fearless Whistleblower Risk Management, Ohio Society of Association Executives Annual Conference, 2014


NLRB Initiatives Impacting Healthcare Employers, Ohio Council for Home Care & Hospice Annual Conference, 2014


Weather the Whistleblower Tempest, Ohio Health Care Association Annual Conference, 2015


Best Practices for Managing FMLA Leaves of Absence, Ohio Council for Home Care & Hospice Annual Conference 2015


Wage and Hour Compliance for Healthcare Employers. Midwest Care Alliance Annual Conference, 2015


Conducting an Effective Workplace Investigation, LeadingAge Ohio Annual Conference, 2016


How to Stay Out of Trouble with Wage and Hour, Family Medical Leave & Equal Employment Opportunity, LeadingAge Ohio 2017 Annual Conference, 2017


Managing the Workers Compensation Intersection Between the FMLA and ADA, LeadingAge Ohio Annual Conference, 2019


Managing the Risks of Employees Unable or Unwilling to Perform a Required Part of Their Job, Ohio Health Care Association Annual Convention, 2021


How Do I Get Rid of this Guy? Ohio Health Care Association Annual Convention, 2022


Management and HR Summit, Independent Community Banks of North Dakota, 2022


Bank in Minnesota Management Seminar, 2023


OSBA Certified Specialist Labor and Employment Law


Martindale-Hubbell Rated AV-Preeminent


Super Lawyers, 2006-2007, 2009-2013, 2016-2023


American Health Lawyers Association, 2000 - Present


Ohio Health Care Association, 2007 - Present


Past Employment Positions:

Ohio Court of Appeals, Sixth District, Judicial Law Clerk, 1987 - 1989


United States District Court, E.D. Tennessee, Judicial Law Clerk, 1989 - 1990


Roetzel & Andress, Associate Attorney, 1990 - 1999


Roetzel & Andress, Partner, 2000 - 2004


Pro Bono Activities:

President - Mobile Meals, Inc., 2009 - 2011